Travel Information to Cambodia | Visa to Cambodia - Best travel time - Cambodia tour packages
CAMBODIA, KINGDOM OF WONDER
Cambodia is a country of unique charm and cultural heritage known across the globe for its incredible natural beauty, breath-taking temples, fertile rice fields, and rich and fascinating history. But with so much to see and do outside of Angkor, a vacation to Cambodia can be a lot more than just temples.
Cambodia TOURS
A trip to this heart-shaped country is something special! Our amazing tours to the inspiring temples of Angkor will transport you into a world frozen in time!
Aurora Travel & DMC can easily design tailor made tours together with other countries in the region including Vietnam, Laos and Thailand.
discover Cambodia
With a long coastline and rugged countryside, the natural delights of Cambodia are every bit as appealing as those of its neighbors, from jungle treks to beach holidays. Cambodian people are also remarkable, offering a unique warmth and friendliness that is even more special considering their recent dark history.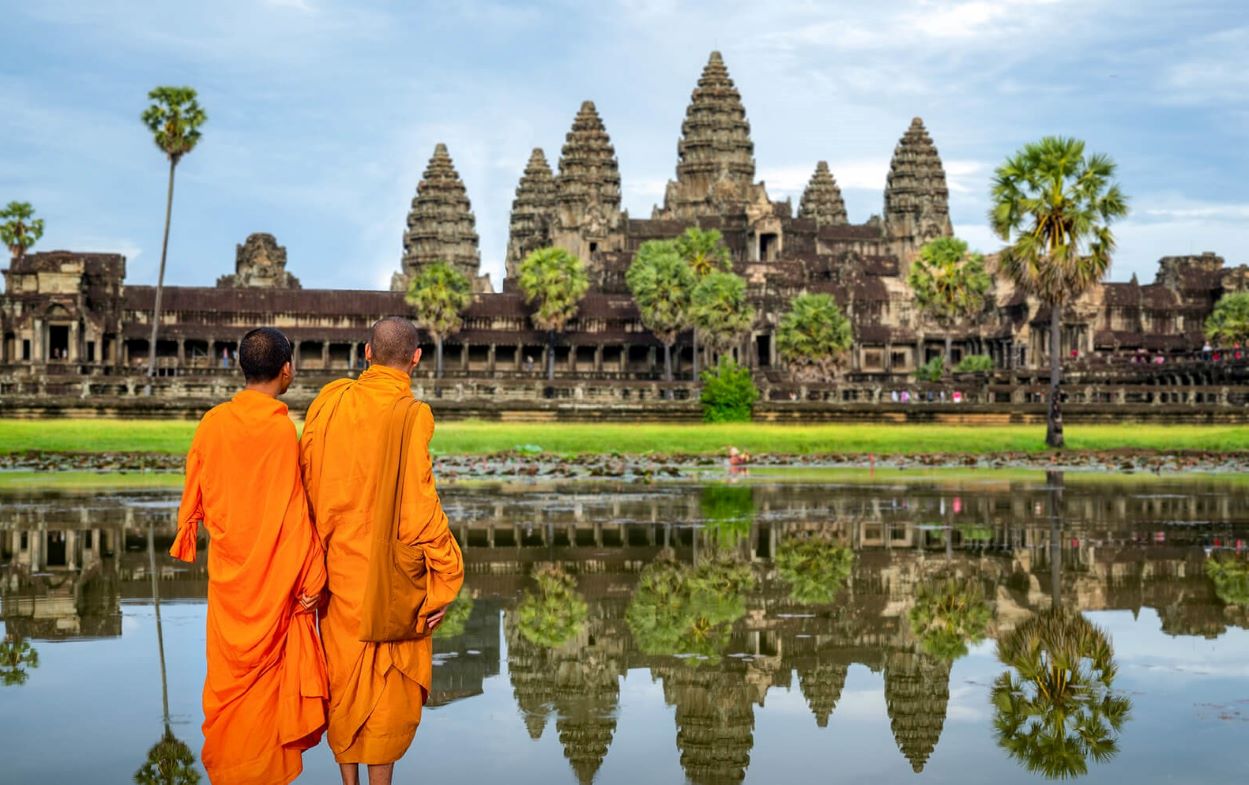 Phnom Penh, the vibrant capital of Cambodia is situated at the confluence of three rivers, the mighty Mekong, the Bassac and the great Tonle Sap. Phnom Penh still maintains considerable charm and tranquility with French colonial mansions and tree-lined boulevards amidst monumental Angkorian architecture. Deep in the forests of Cambodia's Siem Reap province, the elegant spires of an ancient stone city soar skyward above the sprawling complex of Angkor Archaeological Park. By its enormous scale and amazing architecture, Angkor Complex is without a doubt one of the world´s most spectacular sites. The proximity of the Angkorian ruins turned Siem Reap into a boomtown in less than half a decade. Huge, expensive hotels have sprung up everywhere and budget hotels have mushroomed. Despite the massive shift in its economic fortunes, Siem Reap remains a safe, friendly and pleasant town.
VISAS ON ARRIVAL

The following visa classes are available on arrival for citizens of previously approved countries: T-visas (tourist visas), E-class "ordinary" visas, and EB, EG, ER, or ES extensions of stay (EOS), A-class diplomatic visas, B-class, C-class visas, and K-class visas.

VISAS FROM WORLDWIDE CAMBODIAN EMBASSIES:

Visas in advance are available from Cambodian embassies but will require supporting documentation that is not usually required for visas on arrival, and what is required varies from embassy to embassy. The standard requirement is your passport, passport photos, evidence of health insurance coverage, and a letter of invitation from a registered Cambodian business or school (stamped, of course). There's a

letter template

posted in the Cambodia Visa and Work Permit Group on Facebook. While you're there, search for your nearest embassy to find out what evidence they are requiring.

ONLINE VISAS:

Tourist visas (T-visas) are also available online, in advance. The cost is $30 plus a $6 processing fee, with a 3-day processing time. The visa is a 30-day visa valid for 90 days (meaning you must enter Cambodia within 90 days of the visa being issued, but can only stay for 30 days). Tourists can apply in advance for a 30-day visa on the official site,

evisa.gov.kh

. Unofficial sites charge more.

Land borders are still closed as of March 2022, and visas cannot be obtained there.

WHEN IS THE BEST TIME TO VIST CAMBODIA ?

The dry season in the kingdom of Cambodia lasts from the beginning of October to the end of April. This period corresponds to a nice climate in both Vietnam & Laos:
• In South Vietnam knows a dry season from November to May
• In North Vietnam (at the exception of the cold months of December, January and February in the Red River Delta in Northern Vietnam and the mountainous areas by the Chinese border)
• In Laos, which also knows a dry season from October to April (with colder months in Northern Laos from late November to late February)
It is then considered to be the best time to visit Cambodia during this period if you plan on traveling throughout the whole country, or even throughout the whole Southeast Asian region, organizing a multi-country trip including the best of Laos, Vietnam and Cambodia.

If you are willing to visit Cambodia at another time of the year, during the period from May to September, the temperatures are considerably higher, rising during the first few months and so do the rainfalls. The good thing about it is that the first two months of the rain season know relatively few rainfalls and you can often enjoy mostly warm, sunny days, while the rain will start in the late afternoon and during the night. The humidity rate rises with the rainfalls and while the temperatures are the warmest at the end of the dry season and beginning of the rain season (in March, April, May and June, the temperatures can reach 35 degrees and above at some points), the weather remains warm during the whole rainy season, making it difficult to travel to Cambodia during the months of June, July, August, September and October.

TIPS FOR YOUR BEST TRIP TO CAMBODIA

If you are on a budget, however, the first and last months of the rain season are the perfect times to visit the country and benefit from exceptional services, hotels, excursions at a much lower price than during the high season. Also, choose to travel during these periods and you will meet far less tourists during the activities and excursions, as well as in the hotels, which is the perfect time to ask for a better rate and a free upgrade!
Best time to visit Cambodia to enjoy exciting festivals

Also, Cambodia has interesting events and festivals you might want to add to your agenda if your exotic holidays are not all about the weather. For some travelers the best time to visit Cambodia is when they can take part in important festivals of Cambodia.
The most renowned festival (and most important holidays) is the Khmer New Year. During three days in April, Cambodian population celebrates the Bon Chol Chhnam Thmei as most cities completely shut down for a week, which is quite similar to the Vietnamese Lunar New Year or Tet. This period corresponds to the Songkran in Laos, Thailand and Myanmar, but Khmer people celebrate it in a way that also reminds Vietnamese way of celebrating the Tet, by going back to their family hometown, spending time with their families, partying and drinking, as well as visiting the pagodas.

Other festivals count the water festival or "Bon Om Touk", that takes place in November to celebrate the change in flowing direction of the TonLe Sap river's waters, the Pchum Ben or ancestor's day that lasts 2 weeks from mid September and during which Cambodian people offer goods to monks (and indirectly to their ancestors.

HEALTH REQUIREMENTS
There are no officially required vaccinations. Travelers are advised to check with their doctor or travel immunization clinic regarding the advisability of inoculation against typhoid, tetanus, hepatitis A & B and malaria. It is recommended that all travelers take out comprehensive Personal Travel Insurance to cover personal belongings, or in case of an accident or illness, etc.

ELECTRICITY
The usual voltage is 220V, 50Hz. A two-pin (ungrounded) plug is more popular than the three-pin one. If you have any devices needing a special outlet, please bring its adapter kit. The best investment is a universal AC adapter, which will enable you to plug it in anywhere without damaging the appliances.

CURRENCY, EXCHANGE & ATM
The local currency is the Riel, although the US dollar is widely accepted throughout the country and in all major markets. In recent years the rate of exchange has been floating at around USD1 = 4,000 Riels. Some most-used Riel denominations include: 500, 1000, 2000, 5000, 10000 notes.

PACKING LIST - CAMBODIA TRAVEL TIPS
Light clothing made from natural fibers is the best clothing for the region. Warm clothing is needed for the months of December and January, and a light jacket is often necessary in the lowlands. Warmer clothing may be needed if travelling in the highlands. Most towns have markets where you can buy a warm jacket for a fraction of the price you would pay at home.

ETIQUETTE
Cambodia is a Buddhist country and as for other Buddhist countries, it is seen as inappropriate to dress in a provocative way, such as wear beach attire in the city. It is especially true when visiting pagodas as women shall wear clothes that cover their skin from their shoulders to their knees. Also, woman shall not touch the monks or hand any item directly at them. These are important travel tips for Cambodia that you shouldn't ignore!

TIME ZONE & WORKING HOUR
Local time is GMT + 7 hours. Most business offices are open from 8:00 a.m. to 12:00 p.m. and from 1:00 p.m. to 5:00 p.m., Mondays through Fridays. Banks generally operate from 8:00 a.m. to 3:00 p.m. Most private companies work on Saturdays, while government offices are closed.

LANGUAGE
Khmer is the official language. English and French are second languages.

INTERNET
It is easy and cheap to access the Internet and emails in Cambodia. There are a plenty of internet cafes and many are open until late at night. Currently the charge is between 50 cents to 1 USD per hour, and falling.

POST AND TELECOMMUNICATIONS
There are two gateways for international telephone access from Cambodia by dialing 001 or 007 followed by the country code and the phone number.

There are also four cellular phone service providers offering convenient communication via the GSM system, therefore most of local people now carry mobile phones. International Direct Dialing (IDD) calls and faxing are also available.

DOMESTIC FLIGHTS & AIRPORT TAXES

Flight times may vary from day to day. Schedules are subject to change without prior notice. You should allow an hour at the airport for the check-in process prior to flight departure. Baggage allowance is 20kg per person in economy class. Hand luggage should not weigh more than 7kg. Airport departure tax for domestic and international flights is included in the airfare issued.

FOOD AND DRINKS

Phnom Penh, Siem Reap, and Sihanouk Ville are three special places for connoisseurs of Khmer food. Rice and fish, together with an array of herbs, sauces, and spices, are the typical Khmer cuisine. Curries and soup with beef, pork, poultry, and seafood can be bought from vendors along the streets. Cuisine from all over the world is also found in Cambodia with over 100 restaurants such as European, American, Mexican, Indian, Chinese, Japanese, Thai, Korean, Vietnamese and many others, so visitors will have a lot of choices here.

SOUVENIR
The Krama (a traditional cotton scarf) is one of the most typical Cambodian souvenirs.

• This multi-purpose garment, similar to a sarong, is used for bathing, cleaning, protection from the sun and other purposes in the Khmer life. It is also one of the national symbols that distinguishes the Khmer people from their neighbors.
• Both cotton and silk Krama are available throughout local markets and souvenir shops. Ask the seller to demonstrate the proper way to wear the Krama so that you may carry and wear it yourself while sightseeing for a more elegant look.