Travel Information to Myanmar | Visa to Myanmar - Best travel time - Myanmar tour packages
MYANMAR, BE ENCHANTED
Traveling to Myanmar (Burma) and experience a friendly, charming, mystical and untouched destination! Myanmar is an unexplored natural and cultural wonder that offers one of the best authentic experiences for the travelers to Asia. From the snow-covered rugged Himalayas in the north to the pristine deep blue waters in the south, Myanmar is a land blessed and abundant.
Myanmar TOURS
Myanmar, known as the land of Serenity and Mystery, is the country of hills and valleys, mountains and beaches, temples and jungles. Just opened to the world recently, Myanmar is still a mystical destination to all travelers to explore.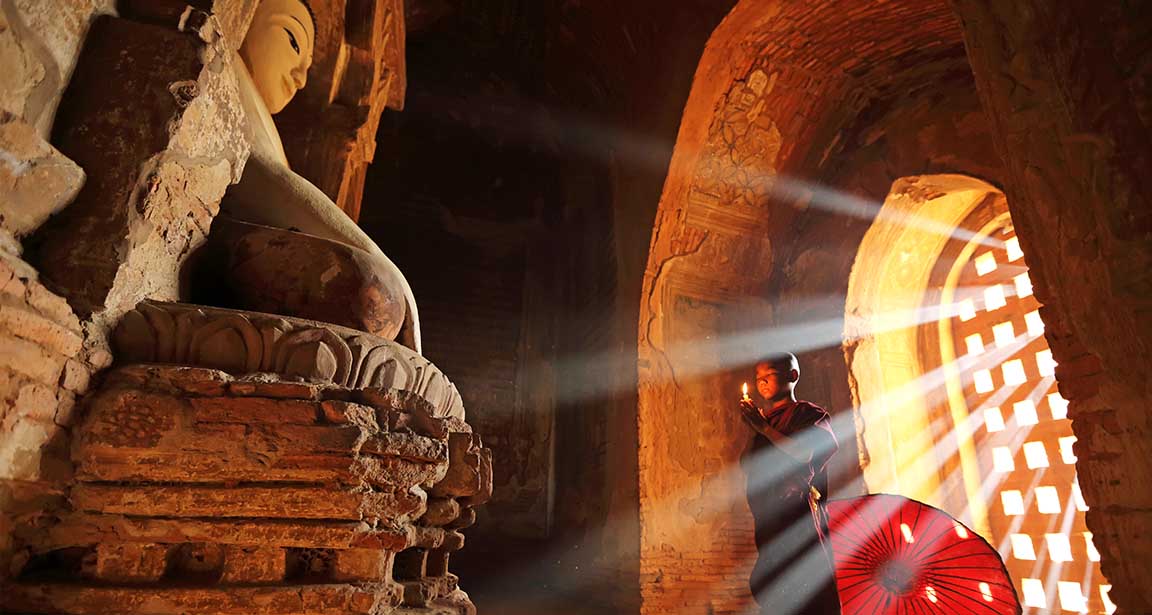 This is an absolute journey for those who look for an authentic travel experience in Myanmar. It offers cultures, traditions and an abundance of scenery: from the mystical plains of Bagan, to the imperial architecture of Mandalay, and the gleaming pagodas of Yangon, and yet admire the picturesque Inle Lake.
discover Myanmar
The natural attractions include caves, corals, lakes, rivers, beaches, islands, and mountains, whilst the connoisseur of culture and history will find pagodas, an array of vibrant festivals, 135 tribes and a spread of delicious cuisine to tantalize their taste buds.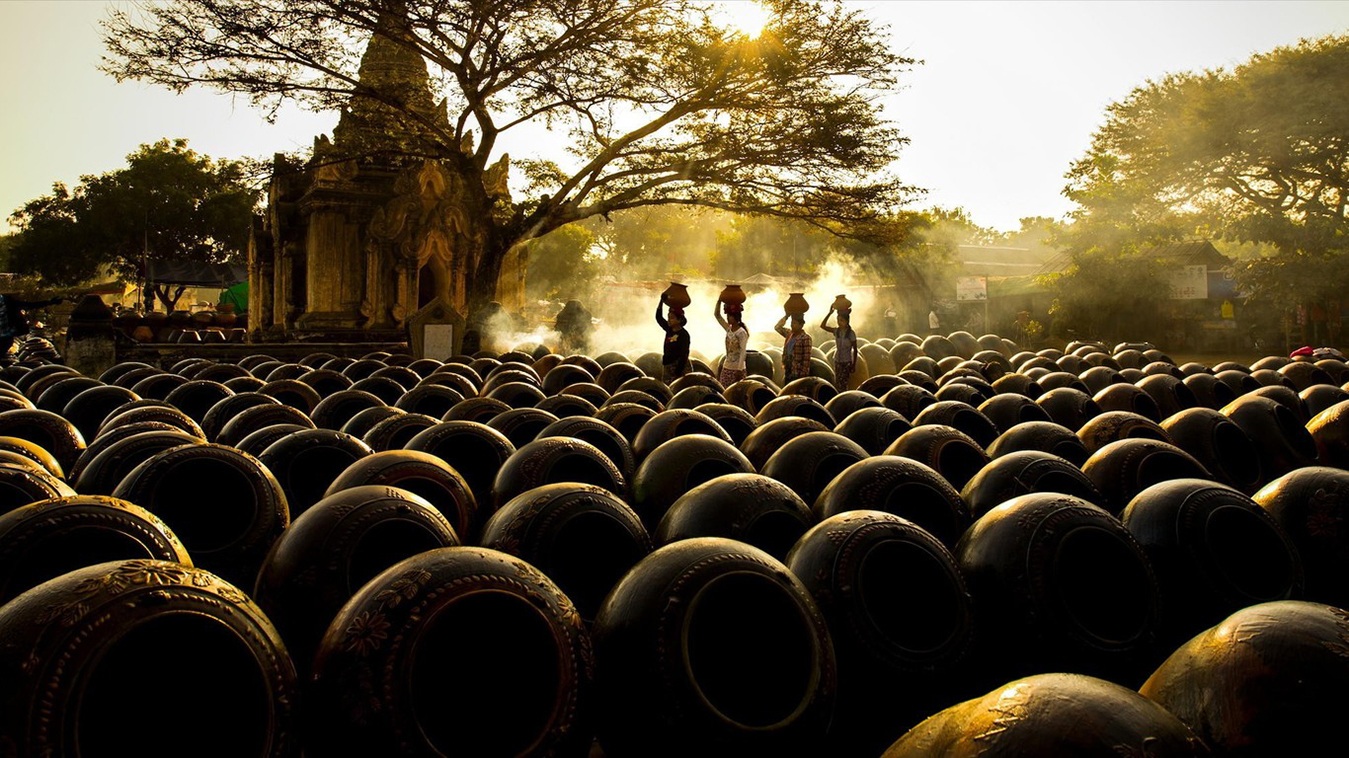 Nay Pyi Taw is now the capital of the Union Myanmar, as the citadel of Yangon is a commercial city and the city of the Golden Temple of Myanmar. A walk around downtown Yangon reveals the spectacular Shwedagon Pagoda, and some of the most impressive colonial era architecture in the region. Situated on the banks of the Irrawaddy River, the mysterious and striking plain of Bagan is the largest area of Buddhist temples, pagodas, stupas and ancient religious ruins in the world. These date from as early as the 11th and 12th centuries and are particularly atmospheric when viewed from above in a hot air balloon. Mandalay offers the chance to offer alms and food to the monks and novices from the Mahagandayon Monastery before visiting the hundreds of peaceful stupas on Sagaing Hill. Inle Lake, in the western Shan State is famous for its floating villages and gardens and the unique way of life of the local Intha people, with their living communities based entirely on the water.
From 1st September 2014, tourist can apply for E-Visa to Myanmar on their own through the website Myanmar Government as below: https://evisa.moip.gov.mm/

Important Notes:
• E-visa to Myanmar is only available for clients who enter the country via Yangon International Airport. Below are the required information and instructions:
• Passports must be valid at least 6 months from the arrival date. To show return international tickets
• Photo to be taken within 3 months and should be 01 color photos of size 4cm X 6cm to present on arrival.
• Visa fees of US$50/passport to be paid by credit card [Visa and Master Cards] upon application and it will not be refund even the application is accepted or not.
When the application is accepted, the authority will send the visa letter and they will have to print it out and bring with them to show airlines check in.
The applicants also have to show this document to the Immigration Department on arrival at Yangon International Airport.

When is the best time to visit Myanmar? WHEN THE BEST TIME TO VISIT MYANMAR ?

There are three seasons in Burma: The monsoon season, the dry season and the hot season.
• Starts at the end of May/beginning of June, the monsoon season brings the hot, humid and rainy weather.
• During the dry season (starts in November), Burma has lower humidity, mild temperature and scant rainfall.
• The heat returns in February until May when the temperature can reach the highest of over 40 degree Celsius.

Yangon usually has the heaviest rain. In the delta region, the heavy rains sometimes make the roads impassible and some areas would become inaccessible. For example, the Ngapali beach, a very famous destination in Burma is closed altogether around this time due to the heavy rainfall and strong winds that batter the coast.

The best time to visit Myanmar is after the monsoon and before the heat waves which is between November and February. Keep in mind that this is also the busiest tourist season; therefore, there might be difficulties for booking and planning your trips.

Before and after the November – February period of, you can choose the mountains or the beaches for milder weather and focus your main activities in the evenings when there is a tendency to be cooler.

WEATHER IN MAIN CITIES OF MYANMAR TO DECIDE YOUR BEST TIME TO VISIT MYANMAR:

Mandalay
Even in the cool season from May to January, Mandalay's daytime temperatures remain high. From October to February average maximums vary from 28°C (82°F) to 32°C (90°F), but the nights cool down from December through February, when the temperatures drop to 14°C (57°F). From March to July the maximum temperatures hover around 35°C (95°F) reaching a steamy 38°C (100°F) in April. The rains start in May, ease off in July and then return from August through to October, however even the wettest months only average 9 days of rain.

Bagan
Touring the temples of Bagancan be hot work, so the best time to go is in the cooler months from May to January. From February to April high temperatures average 36°C (97°F) but often reach 40°C (104°F). During this season, the best time to go to the temples is in the morning and afternoon, spending the hottest time of the day by the pool or in a shaded garden with a cool drink. December to April sees virtually no rain, while the wet season from May to October sees brief afternoon showers but plenty of dry days.

Inle Lake
At a higher altitude, temperatures at Inle Lake are more moderateand, even in Myanmar (Burma)'s hot season from March to May, reach a maximum of just 30°C (86°F). Temperatures in winter, from December to February, are pleasant during the day with an average maximum of 25°C (77°F) but nights can be cold, dropping down to 4°C (39°F). The wet season runs from May to October but the area does not receive a high amount of rain and it rarely affects travel.

Yangoon
Myanmar (Burma)'s capital experiences very little rain from November to April, but during the wet season from May to October it gets much more rain than in the north. Most days will get some rain, though it is usually in the form of a heavy downpour in the afternoon which rarely affects travel. Temperatures are fairly stable year round with lows around 24°C (75°F) most of the year, dropping to 19°C (66°F) in January and February. The hottest months are March and April where average maximum temperatures peak at 36°C (97°F), varying from 29-33°C (84-91°F) the rest of the year. Yangon has higher humidity than Myanmar (Burma)'s north and this can make it uncomfortable on hotter days, with the best time for touring in the morning and late afternoon.



CURRENCY EXCHANGE
the currency in Myanmar is called Kyat (pronounced 'chat'). As in many countries of the area the US Dollar is the most useful currency to carry and it can be exchanged into local currency.
However Traveler's Cheque and International credit cards are not widely used. Traveler's cheques can currently NOT be used or exchanged in Myanmar. It is absolutely necessary to bring enough cash in USD or EURO. Other foreign currencies are difficult to change. There is not anymore required to change 200 US Dollars into 200 FEC (Foreign Exchange Certificates) upon arrival at the airport.

AIRPORT TAX
An international airport tax of 10 USD per person is payable cash in USD or FEC (Foreign Exchange Certificates) when departing Myanmar on an international flight. No departure tax charged on domestic flights.

HEALTH
No vaccination certificate is required when you travel to Myanmar for vacations unless coming from the infected area.

ELECTRICITY
Myanmar uses 220-250V, 50Hz. power-cuts are quite common but most hotels have their own generator.

CULTURE
Myanmar lies between two great civilizations, India and China, but it has developed its own distinctive culture. Buddhism has a great influence in the daily lives of the Myanmar people. The people have preserved the traditions of close family ties, respect for elders and simple native dress. While tolerance and contentment are the characteristics of the people, Myanmar hospitality is legendary.

RELIGION
Everyone in Myanmar has their independent right in religion. Theravada Buddhism is the predominant religion with over 80% of the population professing it. There are also Christians, Muslims and Hindus.

CLOTHING
Visitors are required to dress decently on the precincts of religious buildings. Ladies should not wear shorts, briefs or bra-less T-shirt on Shwedagon Pagoda. Shoes and socks or stockings must be removed at Pagodas and Monasteries.

CUSTOM'S FORMALITIES ON ARRIVAL
All foreign currencies in excess of US$-2,000, Traveler's Cheque and jewelry, cameras and electronic goods etc, must be recorded on the customs form which may be checked on departure.

ECONOMY
Myanmar's economy has been replaced by the "State Law and Peace Restoration Council' from the centrally planned economy to an economic policy based on market-oriented economy. Myanmar has liberalized domestic and external trade, now promoting the rate of private sector and opening up to foreign investment. Agriculture remains the main sector of the economy and private sector participation is strongly encouraged for rapid and sustainable development. In industry, small and medium enterprises are given priority in agro-based industries. As an emerging country rich in natural and human resources, Myanmar has enormous potentials for long term economic development.

DO AND DON'T DURING YOUR MYANMAR VACATIONS

If you happen to be one of the visitors to the land of Golden Pagodas, there are some things you should know about the customs and beliefs of the Myanmar people that will go a long way toward making your stay more pleasant. A key concept for Myanmar people is "Cetana". Although the word has no exact translation in English, it is generally employed in the sense of goodwill, good intention or benevolence. Cetena is manifested in a thousand ways. In the life of a Myanmar, it is applied everywhere and all the time. It is practiced in both his religious duties and daily dealings with others. Any act performed out of true Cetana is greatly appreciated in Myanmar society, you also should never hesitate to ask for help whenever you feel the need for it. Anybody would be happy to help you, without harboring any selfish desire for material gains. Belief that merits, i.e. doing good deeds for others, especially strangers, will accrue is widespread. It even makes us feel enraptured. Thus, gift of money or things should, if at all, be given courteously to a Myanmar who helps you. You should be aware that the help is Cetana, regardless of whether it actually involves expenses. Most Myanmar feels that Cetana can be repaid with gratitude rather than money. Tipping as a system thus confined to such service people as taxi drivers, porters, bellboys and waiters, since they expect a small extra payment if they are indeed, of service to you.

Feeling of Respect
In Myanmar, feelings of respect are spontaneous in almost any situation. Deeply rooted in hearts. People pay respect to whomever honor is due. Yadanar Thone Par-literally meaning the Three kinds of Gem, refers to the venerable trinity of Buddha, Dhamma [his Teachings] and Sangha [members of the Buddhist Order]. Among the Three Gems, Buddha is the most exalted. So much so that each Buddha image must be treated as reverently as a living Buddha himself. Also to be revered are shrines housing the images, and precincts where in shrines, stupas, temples, monasteries and any other religious edifices stand. Which is why footwear is strictly prohibited on sacred religious grounds.

Social Etiquette
Like other Buddhist Asian countries, Myanmar adheres to a se5t of acknowledged cultural rules that can cause problems for the uninitiated. Here's a guide to what you should not do on your trip to Myanmar :

1. Never wear shoes and socks inside a pagoda or monastery as they are not allowed, although some monasteries allow footwear in the grounds. When visiting someone's home, shoes should always be left at the door. You should also remember that carpets, mats and other kinds of floor covering are meant to be sat upon, so should avoid walking on them especially with your shoes on.
2. Myanmar dress is conservative; therefore visitors should avoid wearing anything unsuitable in public. In a pagoda, men and women should avoid wearing sleeveless or revealing clothing.
3. Women should not sit on the roof of buses or boats out of politeness to the men or elder sitting underneath. Nor should anyone sit in chairs on the same level as monks or nuns and certainly not higher.
4. Do not step over the body of anyone else. But if you must, always ask to be excused first.
5. When you offer something to a monk or nun or an elderly person, use both hands. With others, apart from casual transactions at shops or food stalls use your right hand or both hands in order to be polite in the case of giving or receiving gifts, etc.
6. Monks and nuns should not be touched. Women should be careful not to let any part of their body touch a monk's robes.
7. Men should not offer to shake hands with a Myanmar lady unless she offers first, and should not touch them even in friendliness. Also, couples should avoid displaying affection in public.
8. Do not sit with feet on tables or sprawl yourself on the floor. If you happen to be sitting and your feet should, however unwittingly, be pointing toward, say, a Buddha image or a monk or an older person, it would be considered offensive.
9. However aggravated you are, do not lose you temper in public as it will cause everyone involved to lose face. Furthermore, touching someone older than you on the head may also be interpreted as an act of aggression and should be avoided. It is also worth bearing in mind that, apart from the religious persons, age, rather than wealth or professional position, is the most important criterion of social standing. In short, respect for elders above all.

Introduction and Greetings
Mingalarbar, literally means an auspicious occasion! Probably is the first word, which you will hear from a local when you are in your Myanmar vacations. Unlike any other language-greeting phrase, Mingalarbar can be used at any part of the day. The originally western custom of shaking hands when introduced has become something of a vogue among urbanized Myanmar. But this applies only to men. If you were introduced to monks, you would bow or bring your palms together. If you, a man, are introduced to a Myanmar lady, you should not stretch out your hand to shake hers unless she does so first. As demure and shy as a Myanmar lady might appear at first to a foreigner, she is the upholder of centuries-old traditions that make up the fabric of Myanmar society. Thus a proper Myanmar woman will most certainly be reluctant to have any sort of social intercourse with a man who is not intimately related to her. In urban areas, once again, better-educated, well-exposed ladies are less likely to adhere rigidly to such a conservative code of behavior.