Top Experiences The Pearl Island of Vietnam
Update: Sep 28, 2022
Phu Quoc is where both tourists and locals alike go to relax. Not only will you find luxurious resorts, white sand beaches, and friendly locals on Phu Quoc, but there are plenty of adventurous excursions to keep you busy during your tropical island vacation. Here are the most interesting things in Phu Quoc that Aurora Travel would like to introduce to you
About Phu Quoc
With its unspoiled landscapes and pristine coastlines bringing form to a staggering work of environmental artistry, Phu Quoc is deeply embedded as one of Vietnam's most breathtaking natural destinations. Phu Quoc's natural environment retains native tranquility, famed for its serene atmosphere and a pervasive air of discovery. The island offers visitors a pure and meaningful connection to nature and a locale of exceptional untouched beauty.
Time to Travel
The dry season in Phu Quoc starts from late October to April, the Average annual temperature is 27 Census degrees, this is considered the ideal time for sightseeing as well as participating in some tourism activities.
Bai Dai - The Romantic Coast
Bai Dai beach always brings visitors a sense of peace and a wild beauty that has not been influenced much by pollution. That is why Bai Dai has earned its name as one of the most beautiful beaches in Vietnam. Fresh air, white sand, and peaceful nature will quickly replace the worn-out feelings of visitors to the city.
Doi Moi Island - Snorkeling On Doi Moi Island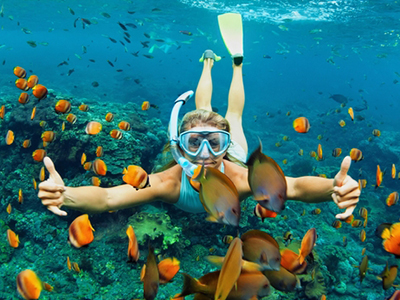 Snorkeling is an activity chosen by a lot of tourists when coming to Phu Quoc. On Doi Moi island, this experience is worth trying even more because the coral reefs here are known as the most beautiful ones on the island. with 17 different types, the coral reefs in doi moi island will take you into the breathtaking marine world.
Pepper Garden - Learning About Pepper Cultivation
Phu Quoc pepper is famous for its quality seeds, aromatic shell, and characteristic pungent taste that cannot be found anywhere else. The pepper is grown mostly in Khu Tuong Area, about 15 kilometers away from Duong Dong Town. You can pay a visit to and take pictures at the pepper garden as well as experience harvesting pepper with the farmers here.
Fish Sauce Factory - Discover The Process Of Making Fish Sauce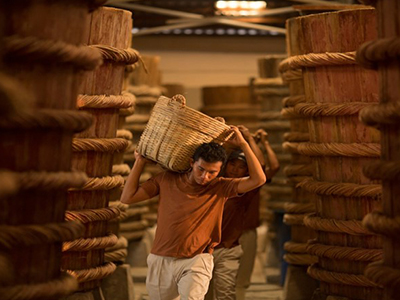 Tourists can buy Phu Quoc fish sauce as a gift for their families and friends back home or pay a short visit to the barrel houses to discover the time-honored tradition of making fish sauce on their journey to Phu Quoc island. This is sure to make your vacation more memorable.
Da Ban Spring - Immerse Yourself In The Beautiful Nature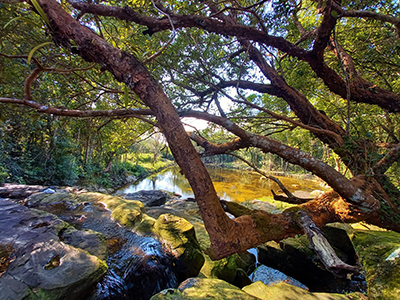 The stream at Da Ban (literally means 'stone table') is situated near Duong Dong Lake. The stream rises from a high mountain range, edging its way through big, flat stone slabs lying in series and overlapping each other to the upstream. The two sides of the spring are embraced by green forest with small waterfalls, becoming an ideal cool place to bathe in the wild nature.
Ho Quoc Pagoda - Spiritual Experience On The Island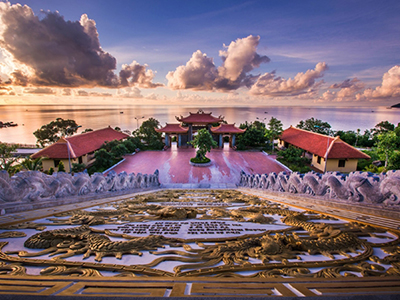 Ho Quoc Pagoda also known as Truc Lam Thien Vien. The pagoda is located in beautiful high between the sea and the mountainside along the eastern coast, facing the rising sun. The pagoda features a Quan Am statue, various statues of Buddha, and a new bell tower, offering a secluded spiritual retreat.
Khem Beach - Immerse Yourself In The Blue Of The Sky And The Sea
Having clear blue water and creamy smooth sand, Khem Beach is one of the best beaches in Phu Quoc and an ideal place to go swimming. You can find that the seawater here is very warm at any time of the day. While immersing yourself in the seawater and enjoying the pleasant breezes here, you will feel extremely relaxed!
An Thoi Harbor - Enjoy The World's Longest Over-Sea Cable Car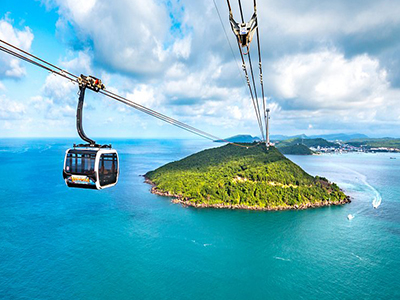 You can reach An Thoi Archipelago by cruise ships and catamarans organized by tours for fishing and diving on the coral reefs. Enjoy the world's longest over sea cable car connecting Phu Quoc Island with Hon Thom Island (literally means 'Pineapple Island') that offers a 360-degree view of the ocean during the journey.
Rach Vem - Sunset At Fish Farm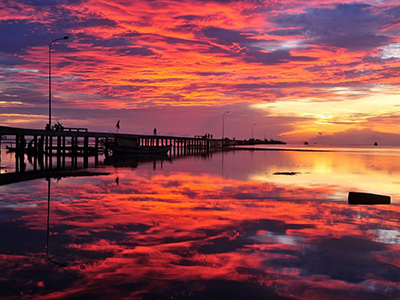 Accessible by traveling down a red dirt road is Rach Vem beach where you can relax in a floating restaurant with your choice of fresh seafood, kayak in the open sea, snorkel nearby corals or visit remote beaches, inaccessible by land.
VinComplex - Exploring The Entertainment Paradise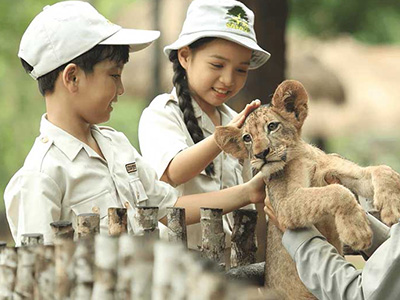 VinComplex Phu Quoc is a paradise of entertainment, adventure, and discovery for all tourists. Including VinWonder - Amusement Park, Vinpearl Safari - Wildlife Conservation, and more.