Travel Information to Thailand | Visa to Thailand - Best travel time - Thailand tour packages
AMAZING THAILAND
Thailand, with so many things to offer, has been always the top choice holiday destination for many travelers. From bustling modern cities to peaceful countryside villages, from lush tropical forest to sunny sandy beaches, from delicious street food to sophisticated 5 star dishes, Thailand has everything for dreaming vacations. Thai people are famously friendly; therefore, Thailand is also known as "The Land of Smiles".
Thailand TOURS
The Thai people have had a long history of welcoming foreigners to this precious kingdom as tourism has existed in Thailand for centuries, and in many ways traveling here is just as spectacular now as it was then. Northern Thailand is about touring interesting villages and impressive mountain ranges whereas in Southern Thailand you can have a real vacation on some of the most beautiful and famous beaches in the world. A holiday in Thailand is on everyone's wish list and Aurora Travel & DMC provides something extra by combining it with tours of the surrounding countries including Vietnam, Laos and Cambodia.


discover Thailand
Thailand has long been regarded as Southeast Asia's top tourist destination. The local hospitality, delectable cuisine, ancient ruins and temples, white sandy beaches, and unspoiled islands are famous the world over.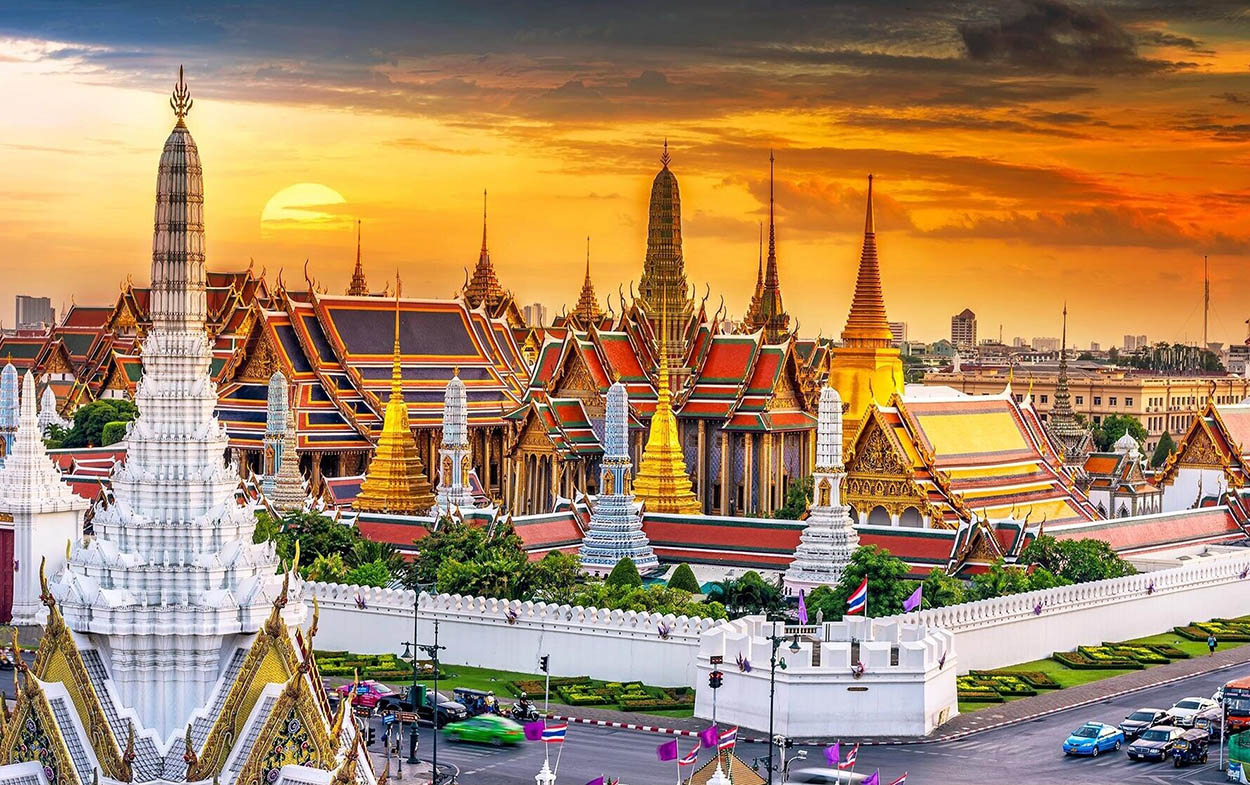 Phuket and Koh Samui are famous worldwide for its golden tropical beaches. These are also the places of world class hotels, top best beach resorts, luxury spas, upscale boutiques and high-end restaurants. Less-touristy Krabi's coastline is dotted with limestone cliffs and pinnacles which rise steeply out of the turquoise sea, offering endless opportunities for snorkeling, diving and rock-climbing. Bangkok can't be missed in a trip to Thailand. It seems that this vibrant capital city never sleeps. Located at the north of Bangkok, Kanchanaburi boasts a green getaway with mountains and rivers. Chiang Mai, surrounded by forested foothills, is blissfully calm and an ideal escape from the busy cities in the south. Chiang Rai, a peaceful neighbor of Chiang Mai, is a home of several ethnic minorities and hill tribe people living in beautiful remote villages. Just a few kilometres from Chiang Rai town is the Not far away is the Golden Triangle, the former center of opium growing in this border area.
Foreign visitors from 57 countries can enter Thailand without a visa for a period not exceeding 30 days. Other visitors from 22 countries can get a Tourist Visa on Arrival for a period not exceeding 15 days. Visitors who enter the Kingdom of Thailand with a Visa on Arrival or without a Visa generally cannot file an application for extension of stay except in special cases such as illness which prevents them from traveling.

THAILAND VISA EXEMPTIONS

Ordinary Passport
Diplomatic/Official Passport
Nationals of the following countries may apply for Visa on Arrival
Nationals of the following countries may enter Thailand without a visa
Nationals of the following countries may enter Thailand without a visa
Tourist Visa
Exemption Scheme
Bilateral Agreement
Bilateral Agreement
Period of stay
Period of stay
Period of stay
Period of stay
15 days
30 days
90 days
30 days
90 days
30 days
90 days
Bhuta
China
Cyprus
Czech Republic
Estonia
Hungary
India
Kazakhstan
Latvia
Liechtenstein
Lithuania
Maldives
Mauritius
Oman
Poland
Russia
Saudi Arabia
Slovakia
Slovenia
Taiwan
Ukraine
Australia
Austria
Belgium
Bahrain
Brunei
Canada
Denmark
Finland
France
Germany
Greece
Hong Kong
Iceland
Indonesia
Ireland
Israel
Italy
Japan
Kuwait
Luxembourg
Malaysia
Monaco
The Netherlands
New Zealand
Norway
Oman
The Philippines
Portugal
Qatar
Singapore
Spain
South Africa
Sweden
Switzerland
Turkey
UAE
UK
USA
Vietnam
Brazil
Korea (ROK)
Peru
Hong Kong
Laos
Macau
Mongolia
Russia
Vietnam
Argentina
Brazil
Chile
Korea (ROK)
Peru
Cambodia
China
Hong Kong
Laos
Macau
Mongolia
Myanmar
Oman
Vietnam
Argentina
Austria
Belgium
Bhutan
Brazil
Chile
Costa Rica
Croatia
Czech Republic
Germany
Hungary
India
Israel
Italy
Japan
Korea (ROK)
Luxembourg
Malaysia
Mexico
The Netherlands
Nepal
Panama
Peru
The Philippines
Poland
Romania
Russia
Singapore
Slovakia
South Africa
Switzerland
Liechtenstein
Tunisia
Turkey
Ukraine
Uruguay
(effective from 16/10/08)

THAILAND ELECTRONIC VISA (E-VISA)

There are currently over 20 nationalities across the world who need to have an approved eVisa to gain entry to Thailand. Thailand's online eVisa grants holders a single entry stay of up to 15 days for tourism purposes. Once approved, the eVisa is valid to enter Thailand for 30 days. To apply for a Thai eVisa, it is necessary to complete a simple online form with personal, passport, and travel information.

To submit the form, the applicant is also required to upload images of the following:

The passport biographical page
The passport cover page
Airline tickets for both arrival and departure
Proof of accommodation in Thailand
The applicant's passport needs to valid for at least 30 days from the expected arrival date in Thailand and contain a minimum of one blank page.

Once the eVisa for Thailand approved, it is sent to the applicant through email. Visitors need to print a paper copy of this document as it will be requested upon arrival.

Travelers are recommended to apply at least 5 working days before the intended arrival in Thailand to allow enough processing time to receive the approved online visa.

Eligible citizens who wish to spend more time in Thailand or need to visit the country for other purposes, such as to study or work, need to obtain an embassy visa to do so.

Check the list below to discover the e-Visa-required countries for Thailand.

Thai eVisa Ports of Entry

Holders of an approved Thai electronic visa are able to enter Thailand by air at select ports of entry in the country.

Travelers are able to use a printed copy of their Thai eVisa to gain entry at any of the following International Airports in Thailand:

Don Mueang (DMK)
Suvarnabhumi (BKK)
Phuket (HKT)
Chiang Mai (CNX)

An online visa for Thailand is not valid for entry by sea or via land border checkpoints. Nationalities eligible for the eVisa will be required to apply for one of the other Thai visa types to gain entry for tourism via sea or land.

VISA ON ARRIVAL

• The applicant must have the means to cover living expenses for the amount of 10,000 Baht per person and 20,000 Baht per family accordingly.

• The applicant must present a fully paid ticket which is usable within 15 days from the date of entry.

• A Visa on Arrival is provided at 32 designated international checkpoints and applicants should submit the application form duly filled out and to which his/her recent photograph (4 x 6 cm) is attached. The application fee is 1,000 Baht.

• Please check the country list through the link below that informs which passport holders can apply for a Visa on Arrival: http://www.thaiembassy.com/thailand/visa-on-arrival.php

IMPORTANT NOTES

• Make sure that your passport has at least 6 months validity beyond the date of entry, otherwise you will need to renew it before applying for a visa to Thailand.

• Upon arrival, travelers will be permitted to stay in Thailand for a period not exceeding 30 days or 60 days.

• Visa application form must be completely filled out

• In order to be issued a Visa on Arrival in Thailand, travelers need sufficient funds for their stay and a return ticket.

• 01 photos (4 x 6 cm) required

• Visa fee may be changed without prior notice: 1,000 Baht per entry

BEST TIME TO GET A THAILAND BEACH HOLIDAY

If you are looking for a beach vacation in Southern Thailand, by the Andaman sea or the gulf of Thailand, you might want to consider the fact that the western coast of Thailand, to the clear waters of the Andaman sea can know heavy storms from April to October, while the Eastern coast, to the Gulf of Thailand, knows its biggest rainfalls from September to December. There is therefore always a good time to visit Thailand if you are looking to lay down on a sandy beach and enjoy the sunshine. Whether it s on the Andaman Sea, or the Gulf of Thailand, the scenery always is amazing!

Best time to visit Northern Thailand BEST TIME TO VISIT NORTHEN THAILAND

From March to May, the weather is still dry in Northern Thailand. You can therefore consider a trip from Bangkok up North, to the cities of Chiang Mai, Chiang Rai. Don't forget to discover cultural heritage of these cities and what the mountainous regions of the North have to offer, such as an introduction to the many ethnic minority groups, adventure activities, treks, promenades and biking tours in this beautiful scenery.

THAILAND FESTIVAL TO ENJOY AT BEST TIME

In choosing the best time to visit Thailand, it is clear that you have to select your destination and check the weather first, but those criteria are not the only ones, as the kingdom of Thailand also offers interesting festivals and the most famous is New Year Festival, or Songkran. This Festival, common to Thailand, Laos, Cambodia and Myanmar, is a celebration of entering a new year and Thai population celebrates in the streets of the major cities by throwing water and flour at each other. This festival happens in April and all travelers who have made it to Chiang Mai at this time of the year will tell you that the culture capital of Thailand is also the best city to celebrate Songkran.

Another famous and exotic festival is the Phi Ta Khon, happening in the city of Dai San, in the Loei province, sometimes between March and July (it depends on the city's medium's decision). This festival is also known as the "ghosts festivals" and is the most colorful festival in Thailand as men dress up with costumes and masks to represent spirits. It is an expression of Thai people's beliefs on ghosts and spirits as they dance and wake up the dead to celebrate the return of Buddha. The festival lasts three days and is actually a succession of different festivals, including some elements of the rocket festival (which welcomes the wet season) during which homemade rockets are fired.

Tip: 7 Best Festivals In Thailand You Must Attend

Phi Ta Khon (Ghost Festival)
Songkran Festival (Water Festival)
Chinese New Year
Lopburi Monkey Banquet (Food Festival)
Yi Peng (The Lantern Festival)
Boon Bang Fai (Rocket Festival)
Wing Kwai (Buffalo Racing Festival)

HEALTH REQUIREMENTS
As in most countries, vaccination certificates are not required for people unless coming from or passing through a designated "contaminated" area. Some border areas of Thailand are malarial and appropriate precautions should be taken if visiting there. Bangkok, major cities, and resorts have excellent medical facilities and most hotels have doctors on 24-hour call. Thailand has a total of 455 private hospitals—121 in Bangkok, 165 in the Central region and East Coast, 62 in the North, 57 in the Northeast, and 50 in the South. Visitors can be assured of round-the-clock international standard medical services.

ELECTRICITY
The electric current is 220-volt AC (50 cycles) throughout the country. Many different types of plugs and sockets are in use. Travelers with electric shavers, hair dryers, tape recorders, and other appliances should carry a plug adapter kit. The better hotels will make available 110-volt transformers.

CURRENCY, MONEY EXCHANGE & ATM
The Thai unit of currency is the Baht. Credit cards are widely used at hotels, tourist shops, all provincial banks, shopping centers, and money changers. There are ATMs everywhere.
For spending small amounts, you are recommended to change to Thai Baht, since only Thai Baht is accepted for taxis and small shops.

PACKING LIST
Light, cool clothes such as light cotton shirts and t-shirts are recommended and a jacket is needed for formal meetings and dining in top restaurants. Shorts (except knee-length walking shorts), sleeveless shirts, tank tops and other beach-style attire are considered inappropriate dress when not actually at the beach or in a resort area.
A good pair of shoes is recommended if you are island hoping or participating to an adventure trip, or even going from one temple to another as the paths can be rough.
A hat, sunblock and sunglasses are absolute necessities as the tropical sun can be very intense and can leave you with very painful sunburns.

ETIQUETTE
Thailand is a Buddhist country for most of its population and it is forbidden for monks to be close to women so women shouldn't touch them. While visiting pagodas, women shall dress modestly and be covered from shoulders to below knees. In general, Thai population is very modern, but in rural areas women shall prefer to dress modestly at all times, especially in presence of monks and ethnic minorities.

TIME ZONE & WORKING HOUR
Most commercial concerns in Bangkok operate on a five-day week, usually from 8 am to 5 pm. Many stores open seven days a week from 10 am to 10 pm. Government offices are generally open between 8:30 am and 4:30 pm with a noon to 1 pm lunch break, Monday to Friday except on public holidays. Banks are open Mondays to Fridays from 9:30 am to 3:30 pm, except on public holidays.

MUSEUMS OPENING TIME
Thailand's museums cover every possible subject – the country's monarchs, hill tribes, etc. There is even a forensic museum in Bangkok housing corpses of infamous murderers! Of course serious history and culture buffs will want to visit Bangkok's National Museum, but it's worth noting that almost every province has a National Museum covering important aspects of that area's past. Thailand has an abundance of museums for you to discover.

LANGUAGE
Spoken and written Thai is largely incomprehensible to the casual visitor. However, English is widely understood, particularly in Bangkok where it is almost the major commercial language. English and some European languages are spoken in most hotels, shops, and restaurants in major tourist destinations, and Thai-English road and street signs are found nationwide.

INTERNET
Broadband Internet is readily available in major cities and towns, but is still to be sought after in smaller villages and in the countryside.

POST AND TELECOMMUNICATIONS
The telephone system in Thailand, operated by the government-subsidized Telephone Organization of Thailand (TOT) under the Communications Authority of Thailand (CAT) is quite efficient, and from Bangkok you can usually direct-dial most major centers with little difficulty. The telephone country code for Thailand is 66.
If your phone is not locked, you can buy a SIM for 100 baht and then buy phone cards as you need.
If your phone is locked, you can easily buy a second-hand cellphone or a cheap cell phone in any major city and then buy a SIM.

DOMESTIC FLIGTS & AIRPORT TAXES
Thailand currently has seven international airports, in Bangkok: Suvarnabhumi airport & Don Muang Airport, Chiang Mai, Chiang Rai, Hat Yai, Ko Samui and Phuket. Domestic airports are at Mae Hong Son, Nan, Lampang, Phrae, Mae Sot, Phitsanulok, Udon Thani, Sakhon Nakhon, Nakhon Phanom, Phetchabun, Khon Kaen, Ubon Ratchasima, Surat Thani, Nakhon Si Thammarat, Krabi, Trang and Narathiwat.

FOOD AND DRINKS
Thailand's cuisine is regarded by many people as one of the best in the world. And, if variety is the spice of life, you can literally have a different meal every day of the year. Almost all Thai food is cooked with fresh ingredients, including vegetables, poultry, pork, fish and some beef. Lime juice, lemon grass and fresh coriander give the food its characteristic tang, while liberal helpings of fresh chilies are used to add some fire to many dishes. Other common seasonings include black pepper, ginger, tamarind, and coconut milk, which is often added to curries.
Beers, wines, and spirits are readily available but the imported items can be a little expensive. A big favorite among Thai people is rice whisky. It has a sharp, sweet taste similar to rum. Several brands of beer are produced in Thailand. The most popular is the local Singha beer.

SHOPPING & BARGAINING
Thai silks, cottons, silverware, bronze ware, pottery and celadon, precious stones, finished jewelry, and a dazzling range of folk handicrafts make memorable gifts and souvenirs. International standard ready-made sports and leisurewear is inexpensive and quality tailors and dressmakers offer reliable 24-hour services in Bangkok and major tourism destinations.